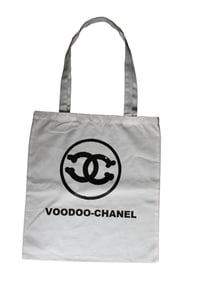 £

8.00
VOODOO CHANEL by Coco Cartier and Ezili Lagerfeld
As featured in the VOODOO CHANEL Pop-Up shop at Grey Area in March 2011.
Exceperpts from the VOODOOFESTO:
'VOODOO CHANEL - INTELLIGENT PEOPLE CAN FEEL GOOD ABOUT BUYING VOODOO CHANEL: YOU´RE NOT PART OF WHAT IS MAKING THE WORLD THE SAME EVERYWHERE. VOODOO CHANEL DID A BIG FAVOUR TO CHANEL BY ADDING LIFE TO THE DUSTY FLAVOUR OF DECADENCE. VOODOO CHANEL IS NOT A COUNTERFEIT, IT´S BENEFIT. VOODOO CHANEL DISCREDITS OTHER WAYS OF STEPPING UP THE LADDER OF IMPORTANCE AND POWER BY PAYING LOW PRICES FOR THE COUNTERFEIT MADE-IN-CHINA-LUIS-VUITTON-HERMÉ-BAGS, BECAUSE BY THIS YOU ARE SUPPORTING THE SYSTEM OF KEEPING THE POOR POOR AND THE RICH RICH.
VOODOO CHANEL IS A COLLECTIVE WORK, THE SHIPPING IS A JPEG. FROM INTERNET CAFE TO OFFICES TO INTERNET CAFES, PEOPLE ARE JOINING THE GROWING NETWORK.
VOODOO CHANEL SAYS: UPGRADE YOURSELF TO FIRST CLASS AND DONT FORGET THE MAGIC POWDER.'